Getting a bachelor party in New York City can be hard. We're guys, so we don't expect parties, we just show up and drink the beer! Check out our bachelor party packages. We've put together trim kits that'll give you the most bang for your buck. We've got the hottest clubs and strip clubs and VIP limousine transportation. Make your bachelor's trip to NYC one to remember.
Bachelor Party in NYC
For birthdays, proms, and nights on the town, we have different travel packages. Want to take a wine tour? We have a bunch of winery tour packages that'll delight you. You'll love our Party Buses, they're like customized private clubs on wheels, with killer sound systems and awesome light shows. We party hard and we party often, and we can show you how.
The Luxury Experience You Deserve
You can relax and let us handle the planning if you like. Get a great deal party package that includes tips, transportation, and VIP entrance to a nightclub. You'll find the package that matches what you're looking for, and you'll save tons in NYC. Some of New York's most popular strip clubs have massive floor space and multiple stages, while others are smaller, hometown clubs. All night long, there are hot girls and plenty of liquor.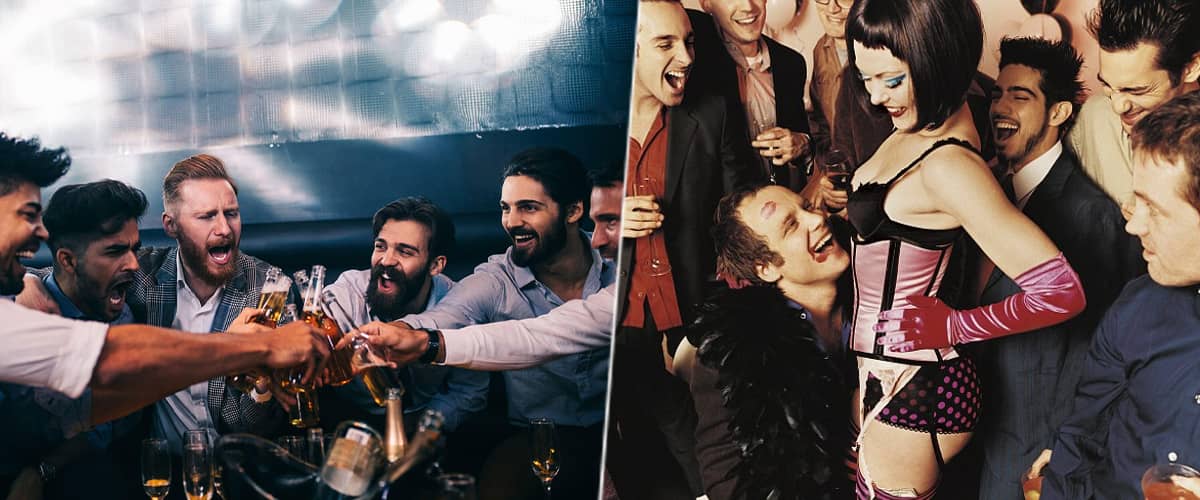 You have a lot of choices when it comes to nightclubs in New York City, so it's hard to pick one. There's no doubt that all of them will have sexy girls on dance floors, banging music, and plenty of alcohol. Check out Crazy Clubbing's nightclub listings for New York City Nightclubs if you want to make your NYC bachelor party one to remember.
You are the party planner if you are the best man at the wedding: First thing to do: Find out what the groom wants to do. Would he like to tear up NYC, or sit around with his buddies and smoke cigars? Not every bachelor party involves booze and strippers. Don't "surprise" him if he doesn't want strippers. Once the groom decides the night's festivities, you're the one to make them happen.
The groom pays nothing: If you're going away for the weekend, start saving your pennies. Best man: It's your responsibility to collect the money, so start now.
Don't act like you're at a frat party: Shotgunning beers in honor of the groom? Probably not. Earlier, you want the groom to actually remember his last night of freedom. Drink and be merry, but if he ends up sunburned on a NYC rooftop, you've gone too far.
Figure out transportation before the night (or weekend) starts: Plan how guests are going to get to and from the venue — especially when alcohol is involved. Best man: Put this on your growing to-do list. Having a crew member volunteer as the designated driver is great, but if nobody volunteers, you'll have to hire a car service. The groom doesn't pay.
There's no end to the party until the groom says so: It's all up to the groom. If he wants to stay a little longer, you stay. If he wants to leave, you leave. If he thinks you're drinking too much, you switch to water.
Some Bachelor Party FAQ
Is a bachelor party a must-have?
There are a lot of factors to consider when planning a wedding, but a bachelor party is one of the enjoyable traditions that most men enjoy. It is a chance for the groom to be the center of attention, at least for one day or night – or longer – as the groom is the center of attention.
How much should a bachelor party cost
Unlike bridal showers, a bachelor party is usually not hosted by one or two friends, although they may be responsible for planning it. It is the responsibility of all the guests to share the cost of the party. For example, if the bachelor party included dinner at a restaurant, everyone paid for his meal, and the guest of honor shared the cost of the meal.
What's the best venue for a bachelor party
If you are looking for a good place for a party, there is no better place than restaurants or nightclubs. These require a bit more planning, but a destination bachelor party allows for the festivities to last a little longer.