Planning a New York City bachelor party can be a daunting task. We're guys for screaming out loud; we do not expect parties; we show up and drink the beer! Help is here to offer that service. Check out our Bachelor Party packages. We have put together trim kits that are guaranteed to get you the most bang for your buck. They include the hottest Nightclubs and Strip Clubs. Plus VIP Limousine Transportation. Treat your Bachelor to an NYC adventure.
Bachelor Party in NYC
We offer different travel packages for various events: birthdays, Proms, and Nights on the town to name a few. Planning a wine tour? One of our many winery tour packages will delight you, for sure. Our Party Buses are more like personalized private clubs on wheels, with awesome sound systems and magical light shows. We party hard and we party often, we can show you how it's done.
WhatsApp Us
Guest List & Reservation
The Luxury Experience You Deserve
If you want to relax and leave the planning to us. Consider this of our strip club packages that include tips, transportation, and VIP nightclub entry. Get a great deal party package. And save tons of money in NYC. You will find the package that will match what you want to do and experience NYC Nightlife.
New York City has some of the hottest Strip Clubs in the country. Some are massive clubs with massive floor space and multiple stages; others are smaller hometown strip clubs. Open all night long with Hot Girls and plenty of liquor. Which one is best for your party?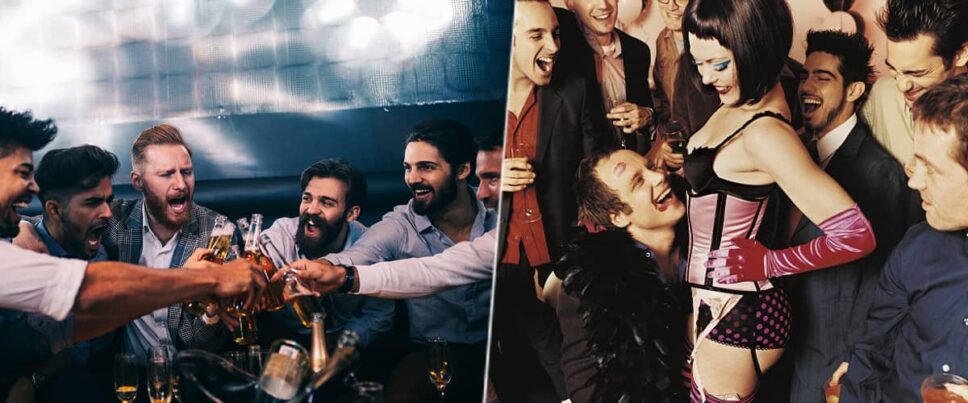 There are fantastic Nightclubs in New York City it's difficult to choose. One thing is for sure; they will all have sexy girls on the dance floor, banging music and liquor pouring all night long. Don't watch the party, Be the Party. Learn more about the New York City Nightclub experience. Crazy Clubbing has the ultimate New York City strip club hookup you're looking for. To make your NYC bachelor party memorable.
Some Bachelor Party FAQ
Is a Bachelor party a must-have?
There are no absolutes in wedding planning anymore but a bachelor party is a nice tradition that most men like. It's a chance to "be with the guys" and for the groom to be the center of attention, at least for one day or night – or more!
How much should a bachelor party cost
Unlike bridal showers, a bachelor party is usually not hosted by one or two friends, although they may be responsible for planning it. The cost of the party is shared by all the guests. For example, if the bachelor party includes dinner at a restaurant, everyone pays for his meal and shares the cost of the guest of honor's food.
What's the best venue for a bachelor party
Anyplace is a good place for a bachelor party! Restaurants or nightclubs are all great locations for a party. These require a bit more planning but a destination party means the festivities can last longer!