Uptown Republica Lounge is a two-level multi-room Open Format and dance club open until 4 AM Friday and Saturday. In the heart of Inwood Entertainment District, Republica's grandiose interior features an LED screen and VIP tables. The Rooftop, a club within the club. Features a full view of the block and DJ booth, bar, and VIP tables.
This go-to rooftop terrace transforms each summer from May-Oct into a new playground for drinkers to enjoy. Escape the office early and watch the sunset with your favorite drink in hand. Republica NYC rooftop is perfect for everything from after-work drinks to special birthdays party.
WhatsApp Us
Guest List & Reservation
About Republica Rooftop
Since its inception in 2018, The Rooftop has always been the city's late-night choice for an excellent reason. Considered being the best Lounge and Rooftop in Uptown. Enough said. This open-air rooftop in the center of Washington Heights is an excellent place to lounge around with a few friends. The seats are comfy, the music's laid back, and the views are pretty.
The lounge is the new Dominican food and party sensation that has taken the Inwood neighborhood by storm, featuring three floors to savor on delicious eats and handcrafted cocktails. Enjoy a delicious large menu of gourmet Dominican dishes along with an extensive selection of meats and seafood prepared to perfection and served with our authentic Latin side dishes.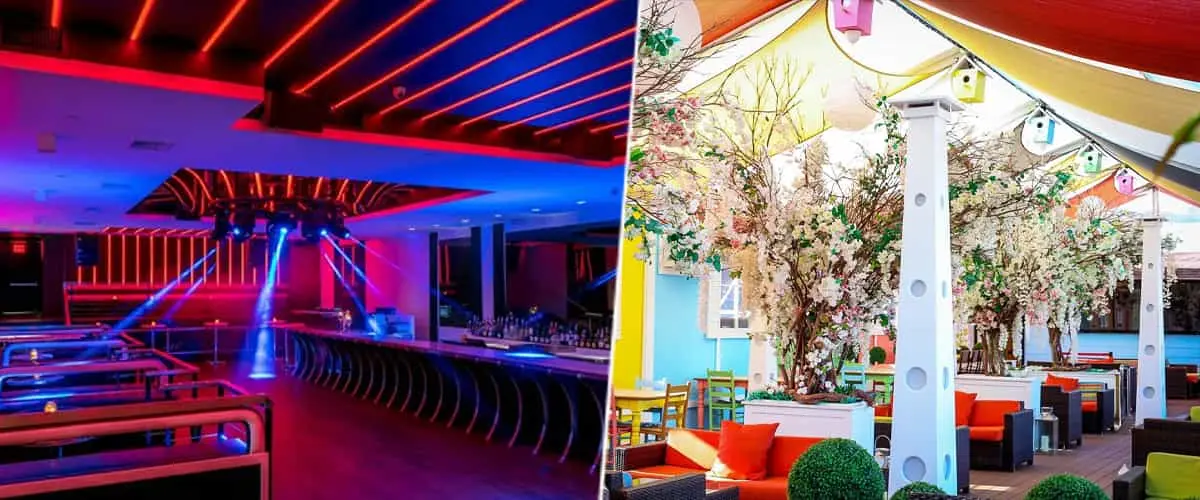 Join us for Happy Hour Monday – Thursday 3 pm-6 pm, as well as an array of events and specials throughout the week. Come with your friends and family and make sure to enjoy our comfortable wonderful rooftop. Immersive 360-degree visuals, which are cast against winding staircases and balconies. Thus the exteriors of Avant Gardner bear the visage of a palace — a stark contrast to the structure's blue-collar beginnings.
Republica Rooftop FAQ
Rooftop Republica Dress Code
We encourage our guests to express their unique styles. However, we implement a strict dress code on Friday & Saturday nights. Please avoid; flip-flops, beachwear, activewear, shorts, sweatpants, hiking boots, and any gang-affiliated attire. No men's sleeveless shirts and no athletic sportswear.
Rooftop Republica Events
The venue is open seven days a week. You will find the best-looking crowd every Saturdays Night events. The staff is young and sexy, serving your drinks in cute outfits.
Republica Lounge Bottle Service
The Bottle service starts at $200 and includes VIP entry. If you have a sizeable group, consider getting a table with bottle service. It's well worth the experience and you can cut the line!.
Republica Rooftop Birthday Packages
Let our team help you with the planning and coordinating of the birthday that everyone will remember for years. You focus on your birthday wish list; we'll handle the rest. The Rooftop and Lounge will perform at any event you care to dream up!.